Behind-the-scenes updates
The markets are hurting. We are building.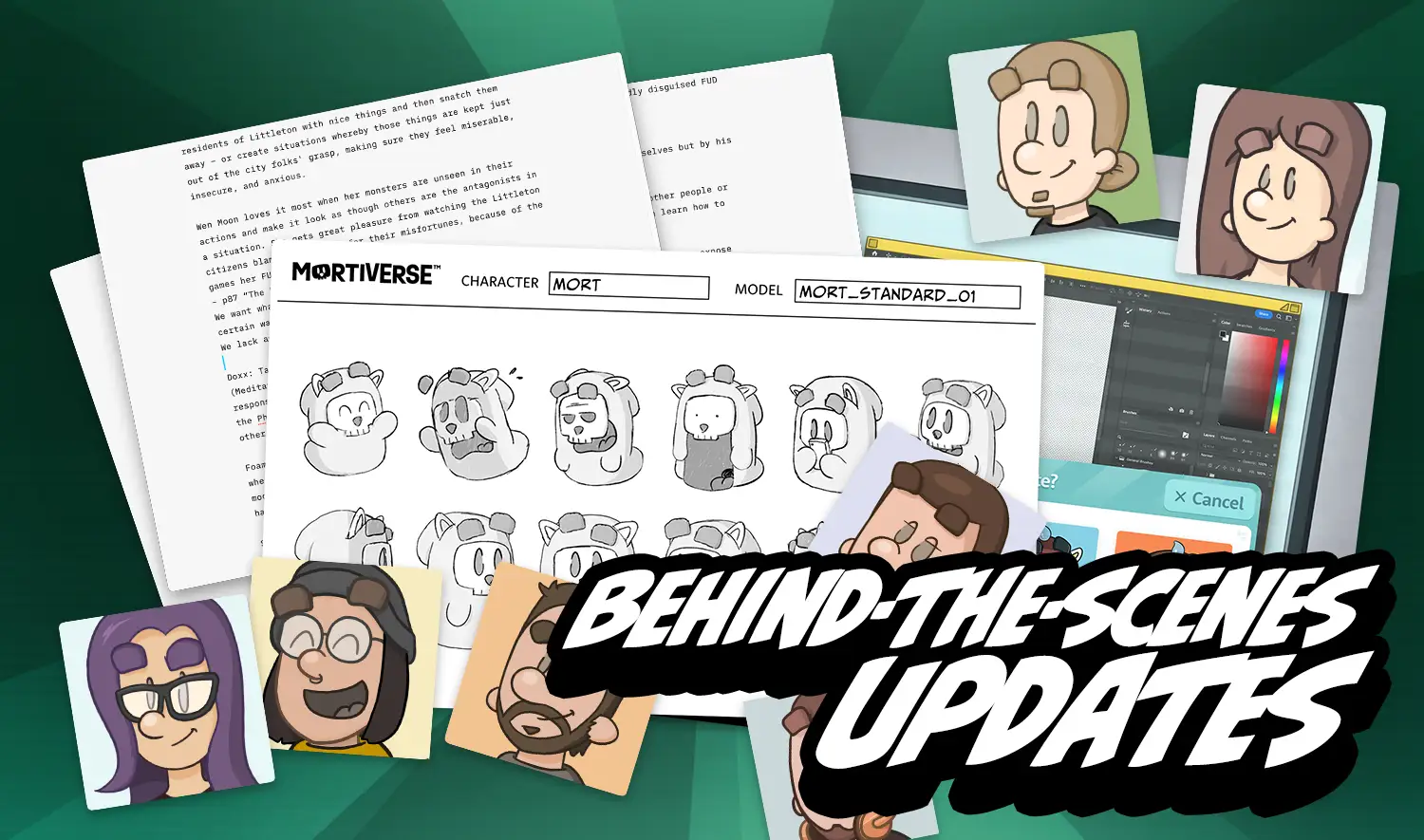 The markets are all hurting.
And a lot of people are feeling down on their luck, or just unsure how to feel in general.
So the Mortiverse's goal of making Stoic philosophy fun and accessible — so all of us can watch and play our way to calmer and more resilient mindsets — is a much needed salve, perhaps now more than ever.
And so we're building.
A lot.
Here's what's moving behind-the-scenes right now.
1. Curriculum development
Great stories don't write themselves! The work of combining great storytelling with timeless lessons from the Stoics in a way that's fun and memorable has already begun.
We're been hard at work expanding the Mortiverse world, the intentions and quirky desires of its citizens, and preparing an environment where life lessons will be hiding around every corner. Kezia is a magician with world and words, and it's a delight to see the world coming to life.
It's a little bit like setting up dominos to fall: each piece of the world and the story should trigger a reaction elsewhere in the world, so that we can get lost in a journey that keeps moving for our benefit.
(And we can't tell you how much fun we're having writing it!)
2. Hiring & training
With the curriculum well underway, we've been working to carefully select the right team members to join us in the work that lies ahead.
While Adam has prepared all of the animations, artwork and game world functionality by himself to date, we need to augment his efforts to achieve the velocity of production we have in mind for the Mortiverse!
We've already welcomed three new faces to the Mortiverse team to expand our community and product management work and start creating leverage in the art department, with many more roles still to add.
It has been a lot of fun getting to know the candidates and selecting the lovely folks who love the Mortiverse and where it's heading. Which leads us to the next piece:
3. Process development
With the new faces coming on board, we wanted to make sure the production ahead runs like clockwork, so we can be great stewards of the resources available to us, and to maximise output for the benefit of our budding Mortiverse community.
We've been hard at work documenting the way we create what we're creating. We've been creating training material for new faces as they join the team.
And it's working great!
Folks are getting up-to-speed quickly, producing sooner, and collaborating effectively and asynchronously.
This may not seen like a big deal, but for any of us who have been in high-speed production environments before, you'll know intimately how much rides on effective collaboration and uniform output. We're super-happy with the progress being made here, and we're excited to see the upsides we all gain thanks to this work.
4. Pre-production
What comes before production?
Pre-production! And lots of it.
Before Mort and his friends come to life in the content that lies ahead, we need to prepare each character, one at a time, to move from static images to a full spectrum of movement and emotion.
From character sheets to rigging, pre-production has begun, and we can't tell you how fun it is to see everyone coming to life!
From these assets, storyboarding (which we produce in Storyboard Pro 22) and animation (which we produce in Harmony 22 Premium) will be streamlined into a proper production pipeline for everything that comes next.
5. Mortiquotes system
Finally, we've started building a fun new feature for the current Mortiverse overworld!
The Mortiquotes system will allow each Mort holder to generate social media picture quotes, combining their favourite Morts with their favourite Stoic quotes, either to print and enjoy as an investment in themselves, or to share on social media as an investment in their friends.
We'll share more on this real soon, but it has been shaped and designed, and is already in development. Won't be long now!
The markets may be hurting…
And a lot of people are feeling down on their luck, or just unsure how to feel in general…
But here in the Mortiverse community, we're not letting off the gas. Together, we can change the culture.
#GoodTimesAhead